Especially in urban-wildland intermix areas, fire risk doesn't diminish just because one travels outside the city limits. There are many structures located out of reach of the normal water distribution systems. Additionally, what may start as a brush fire in an area close to homes could develop into a fire of such significance as to threaten entire neighborhoods.
Some of these intermix and boundary areas are served by long, narrow rural roads that create traffic problems for fire apparatus that need to haul in water and make quick turn-arounds to go back to town to resupply. In some instances there is no ability to turn around and go back once the road is blocked by successively arriving apparatus. To help alleviate some of these risks, the District's Water Supply Program engages public and private landowners in joint projects to provide practical accessibility to water by fire apparatus.
Program Objective:
Develop alternative water supply sources and provide recognizable and standardized fire department access to available rural water supplies wherever feasible.
Design Goals:
Rural water supply systems should be capable of providing a minimum flow of 500 GPM for 20 minutes, whenever possible, through an approved fire hydrant.

Flows for any "approved" system shall not be less than 250 GPM.

Rural water supply fire hydrants should be placed in locations that are readily accessible and maximize public benefit.
This source of water supply is the product of a joint venture between EBMUD Forestry Division and the District. The source of the water is a spring which fills two fiberglass storage tanks. A four-inch PVC line supplies the hydrant.
The hydrant came from Berkeley and was overhauled by the District's summer reserves. The purple body indicates that the hydrant is supplied from a non-potable source (per OSHA standards.)
This hydrant flows in excess of 500 GPM. The stored water can be augmented from a nearby stock pond. A pipe has been run from the storage tank to the pond where a floating pump can be used to supply additional water to the system.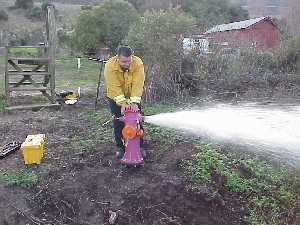 District Partnership:
The District will assist in construction of these projects and provide a portion of the materials when such projects are determined to be in the public interest (e.g., they are designed so as not to just benefit an individual landowner).
The extent of District participation is based on risk / benefit as well as the practicality and cost of the system. Typically the District's share involves materials needed that are in excess of a private property owner's needs, such as extending a pipeline and siting a hydrant in a location that serves multiple needs.
More examples of alternate systems will be presented
---